HISTORY OF THE SOCIETY OF ST PAUL IN INDIA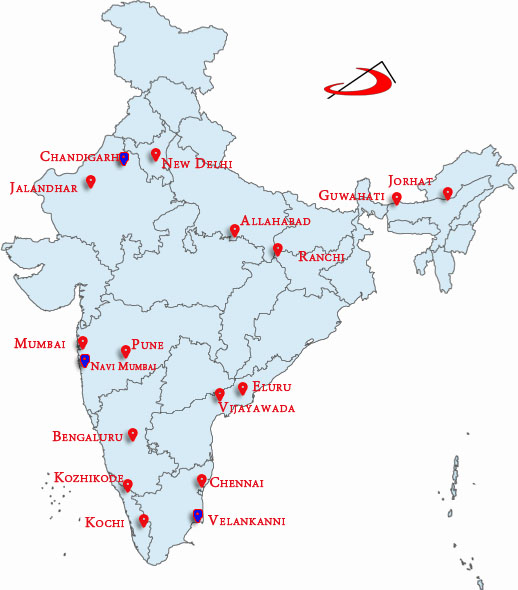 The first Paulines to set foot in India were Fr Domenico Ambrosio and Fr Guido Paganini. They arrived in Bombay (now Mumbai) by the Italian liner Victoria on 10 April 1935. As India was then under British rule, they had obtained a general permission from London to stay in India.
The rector of St Xavier's in Bombay gave them accommodation for a few days. Thereafter they rented a flat near the Holy Name Cathedral. Shortly after Easter they requested Most Rev. Thomas Roberts, Archbishop of Bombay, for permission to settle down and start their work in Bombay. They were told that he could not grant it as their documents were incomplete and as they came to Bombay without his prior permission. 2 The question of the Padroado3was not yet settled, and Bombay was under double ecclesiastical jurisdiction. The Archdiocese was not open to religious other than the Jesuits, so the two Pauline priests could not stay in Bombay.
As their resources were meagre, the two pioneers had to move out of their flat to a very modest place. With no valid reason to send them back and no sufficient reason to let them stay permanently in India, the authorities kept them waiting. So they decided to approach higher authorities and Fr Paganini went to the Nilgiris (Blue Mountains) and met the Internuncio who stayed there in the summer months of 1935. The Internuncio advised him to get help from Agra or Allahabad where there were Italian Capuchin Bishops.4For what followed, see "The House of Allahabad," below.
On 22 July 1937 Fr Alfonso Ferrero left Italy and arrived in Bombay on 2 August; he immediately rushed to New Delhi to meet Fr Ambrosio who was about to leave India. After a few months two more confreres, Fr Gabriel Colasanto and Bro Bernardino Ruffoli, arrived in Delhi from Italy.
The India-Nigeria Province of the Society of St Paul has fifteen communities in India and four in Nigeria (vide infra "The History of the Pauline Family in Nigeria"). Here follows the history of the houses in India.
---