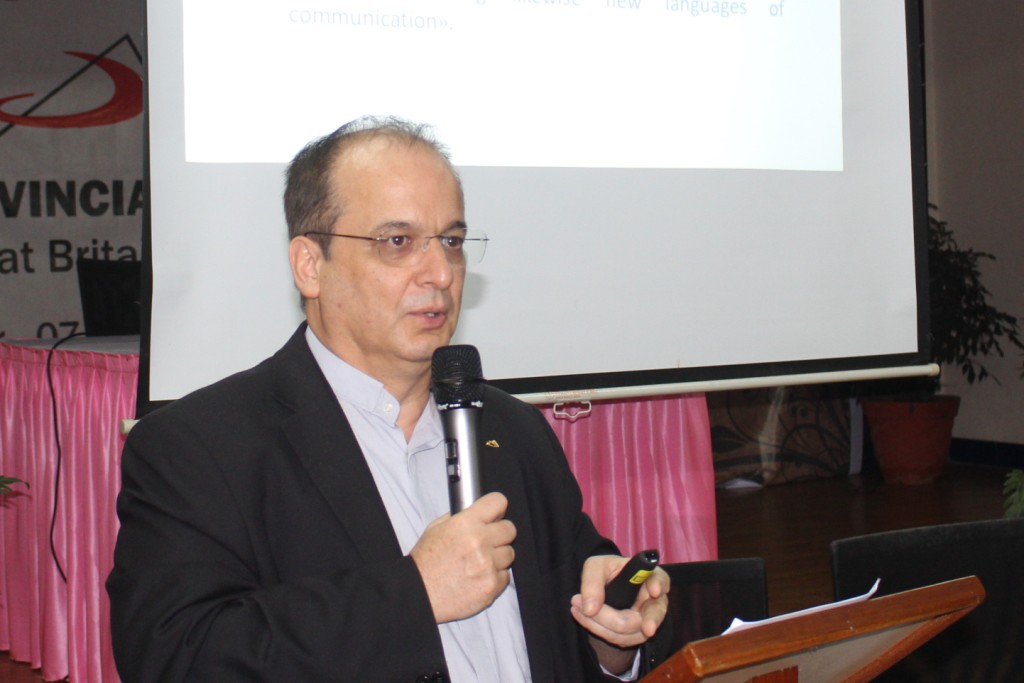 XVIITH PROVINCIAL CHAPTER
India-Nigeria-Great Britain-Ireland Province
Theme: "I do all for the Gospel" (1 Cor 9:23)
CRI Brothers Institute, 128/1, Ulsoor Road, Bangalore – 560042, India.
October 28 to November 7, 2017
Number of Chapter Members: 28
Members from the General Government: 4
On Saturday, 28 October 2017, the participants of the XVIIth Provincial Chapter arrived at the venue. On Sunday, 29 October 2017, on the Solemnity of Jesus Divine Master, the Inaugural Eucharist was celebrated. Most Rev. Fr Valdir José De Castro, the Superior General, presided over the Eucharist.
At the inauguration ceremony, Fr Varghese Gnalian, the President of the Chapter and Provincial Superior, welcomed Fr Valdir José De Castro, Fr Celso Godilano, Br Luigi Bofelli and Br Darlei Zanon in a traditional Indian way, offering ponnaadai (shawl). Fr Varghese Gnalian also welcomed each member of the Chapter with a flower, symbolising Pauline fraternity.
The Chapter, then, proceeded to the illumination phase where Fr (Dr) Laurence, Professor from St Peter's Seminary, Bengaluru, systematically presented Apostolic Exhortation Evangelii Gaudium to the assembly. Having listened and interacted with the resource person on various themes of the Exhortation, the members felt that an atmosphere of thinking and reflection had been established.
In the afternoon session, Fr De Castro, the Superior General, shared the Objective (2015-2021) of the Tenth General Chapter of the Society of St Paul with the Chapter Members. His reflection included the topics such as "I do all for the Gospel" (1 Cor 9:23), the theme of the Tenth General Chapter, Bl. Alberione's three ways of reforms, Renewal of members and of apostolic structures, Pauline geography of the Province, Pauline Family, etc.
Fr Godilano, the General Counsellor, animated the next session. His presentation was on the Formation of the Paulines. He treated his subject matter from various perspectives like the Importance of Living and Giving the Gospel Values, Christification, Pauline Fundamental documents for Formation, Pressing issues of the formation sector, Renewal of members, etc.
Having finished different sessions of the day, in the evening, the members made an hour of Visit to the Bl. Sacrament. Fr Varghese Gnalian animated the Visit and had invited the entire assembly to pray for Br Zanon who celebrated his birthday. The activities of the day came to an end with the birthday celebration of Br Zanon during the supper.
Dominic Savio D'Silva, SSP
comments