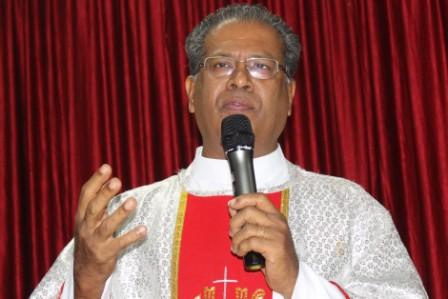 The day started with the celebration of the Eucharist. Fr Varghese Gnalian, the Provincial Superior, presided over the celebration and asked the Eucharistic assembly to pray for him as he officially took charge of the Province.
The first session of the day opened with the scheduling of the Provincial Chapter's programme. Later, the Provincial Superior, the President of the Chapter announced the election of the Chapter Officials and read out the Directory no. 196.1bis from our constitutions. Fr Shaiju Vadakkemury and Fr Francis Xavier, the youngest in age, were appointed scrutineers of the Chapter.
During the elections that followed, Fr George Chathanatt and Fr Joseph Thenasseril were elected as the Secretary and as the Moderator of the Chapter respectively by secret ballot. Meanwhile, the assembly proposed the names of Fr Joe Eruppakkatt and Fr Sebastian Kanayammakunnel as Actuaries of the Chapter, and the members unanimously confirmed the proposal.
Now, the assembly proceeded with the official inauguration of the Chapter. The Secretary opened the Chapter with a scripture reading taken from the Letter of St Paul to the Philippians 3: 7-11.
Soon after the inaugural prayer, the Secretary invited Fr Varghese Gnalian, the Provincial Superior, to give the keynote address. Fr Varghese gave the keynote address inviting the entire Province to look forward with hope and to work as a team to venture into new initiatives 'reading the signs of the times'. He also called the XVIIth Provincial Chapter as an historical event as the Superior General and his three Councillors are present for the first-time. Fr Varghese also presented some of the new apostolic projects which the assembly could consider for discussion.
After the President's address, the Secretary invited Fr Superior General to throw more light on the theme Community Life and Spirituality from his Programmatic Letter to the Province.
In preparation for the afternoon sessions, the members were divided into four different groups to discuss the theme Community Life and Spirituality. Later, four secretaries of different groups presented the results of the group discussion to the rest of the assembly.
The daylong deliberation came to an end with the Visit to the Bl. Sacrament, animated by Fr Provincial Superior.
comments