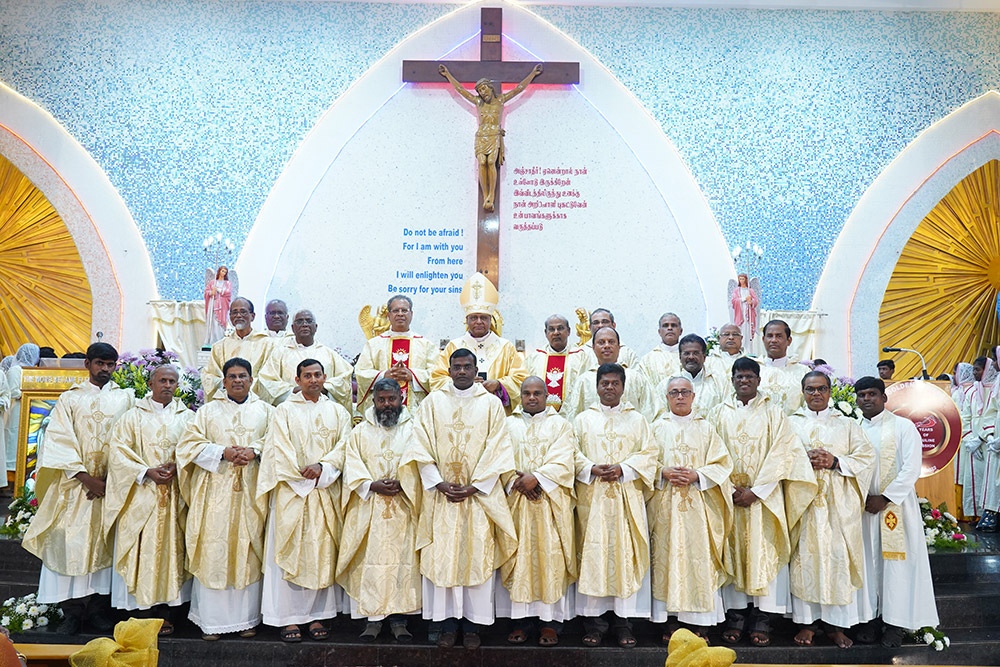 The Society of St Paul (SSP) celebrated Golden Jubilee of its foundation in the city of Chennai (1972-2022), its 50-year long presence in the Archdiocese of Madras-Mylapore, and the Feast of Blessed James Alberione, the Founder of the Pauline Family, on Saturday, 26th November, 2022. In preparation for the Jubilee and the Feast, there was a triduum in honour of Bl. James Alberione at our parish, Divine Mercy Church.
The Solemn concelebrated Eucharist was presided over by His Grace Most Rev. Dr George Antonysamy, the Archbishop of Madras-Mylapore. In the Presence of Very Rev. Fr Stanley Sebastian, the Vicar-General of the Archdiocese of Madras-Mylapore, Rev. Fr Varghese Gnalian, the Provincial Superior of the SSP and Rev. Fr Joby Mathew, the Provincial-designate.
During the homily, the archbishop highly appreciated and thanked the missionary services of the members of the SSP in his archdiocese, namely the pastoral care through the Divine Mercy Church, and the media-apostolate through the Good Pastor International Book Centre and Nallaayan Pathippagam (the Tamil publishing house of ST PAULS). His Grace Dr George Antonysamy also preached on the some of the characteristics of Bl. James Alberione—his Prayer life, Vision and Mission.
After the celebration of the Mass, there was a felicitation programme at the Don Alberione Hall in which Rev. Fr Dr Kurian Thomas, a close friend of the Paulines and the Founder of the Sisters of the Nava Jeevan Vikas Secular Institute, gave a beautiful presentation of the history of the SSP and its members from the very inception till date. While Mr L. Joseph, a long standing parishioner of St Luke's Church, Chennai and collaborator of the Paulines in the field of pastoral ministry, addressed the gathering, narrating the effective pastoral care given by the Pauline priests in the area of Anna Nagar, Chennai.
Later, Rev. Fr Joby Mathew, the Provincial-designate, released the second edition of the 'Divine Melodies' the hymnal of the Divine Mercy Church, and the enriched Golden Jubilee edition 'the Sunday Liturgy'. The members of the Chennai community, felicitated all dignitaries of the Golden Jubilee celebration, and gave a souvenir to all the invitees.
It is to be remembered that the then Archbishop, His Grace Anthony Rayappa Arulappa who welcomed the members of the SSP wholeheartedly to the Archdiocese of Madras-Mylapore.
It was a joyous moment of the Chennai Community to witness a large number of the priests, men and women religious, friends and laity participating in the historical event, and took part in the delight of the Paulines who toiled for fifty long years in Chennai.
comments