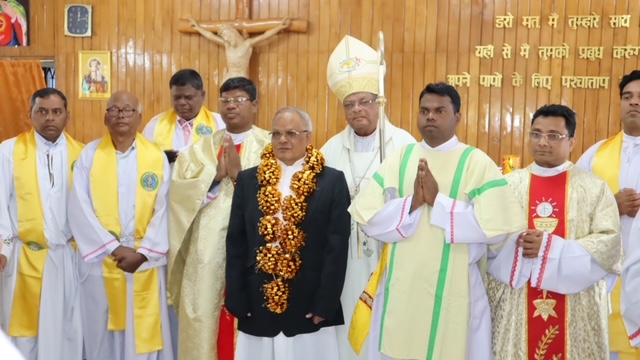 19th February 2022 will be marked as a red-letter day in the annals of the history of Society of St Paul, Ranchi as the community along with the parish members witnessed the solemn combined celebration of the Golden Jubilee of the religious profession of Br Vincent Minj and the diaconate ordination of Br Prabhat Kujur. His Grace Rev Dr Felix Toppo, the Arch Bishop of Ranchi presided over the solemn Eucharistic celebration in the presence of Rev Fr Saju George, the Provincial counsellor, Rev Fr Aneesh Antony, Director of Formation, Fr Herman Dungdung, Superior of the community of Ranchi along with the other guest priests.
His Grace, in his well-prepared homily, fondly remembered the personal bonding and hospitality he had experienced with Br Vincent whenever he visited our community in U.S.A. His Grace also highlighted the importance of commitment and passion for mission as the prerequisites of religious consecration and exhorted the deacon and the assembly to be dynamic and courageous witnesses of the crucified Lord in this challenging time where religious and priestly life are generally being frown upon due to the influence of the materialistic and hedonistic culture.
After the celebration of the Holy Eucharist, Br Prabhat proposed the vote of thanks during which he expressed deep gratitude to everyone who played a major role in his life especially during his formative years.
Br Vincent Minj and Br Prabhat Kujur were felicitated by the community, members of the parish and the family members of the celebrants in an outward manifestation of love and admiration for the celebrants of the day. The celebration concluded with a festive lunch.
Order, decorum and precision marked the entire celebration due to the hard work and collaboration Fr Herman Dungdung, superior of the community, Fr Francis Dalmet, the Master of Ceremony, the aspirants along with their prefect Br Arun, all the members of the community and parishioners and well-wishers.
comments