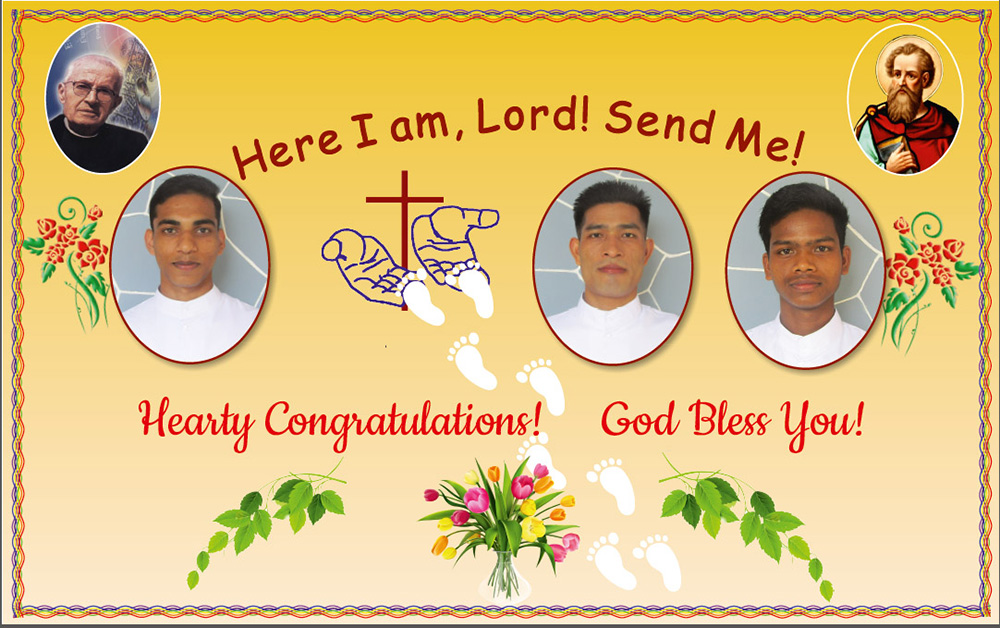 On the Feast of the Queenship of Our Lady, 22 August, the Society of St Paul was blessed with three members. After having successfully completed the canonical year of Novitiate under the guidance of Fr Saji Antony, Novice Master - Aneesh Johny, Nerswn Islary and Suresh Kerketta committed themselves to God and vowed the evangelical counsels in the hands of Fr Varghese Gnalian, Provincial Superior of India-Great Britain-Ireland Province.
Presenting them a copy each of the Holy Bible and the Constitutions and Directory, Fr Varghese in his homily exhorted the newly professed to live a life of commitment and be witnesses to the love of God in the contemporary world. He reminded them that religious life is much more challenging today than ever; but with the grace of God, all things are possible. Fr Varghese also thanked the community of Guwahati, especially Fr Saji Antony, Novice Master for accompanying and guiding the Novices. Present on the occasion was also Fr Aneesh Antony, Formation Coordinator and a few religious from neighbouring communities.
The family members of the newly professed, Paulines from around the globe and many of our well-wishes participated in the ceremony with the help of the live video streamed by Fr Jeffrey Khongsni, SSP.
comments